The MGHPCC selects the Mastex Industries former site in the Holyoke Canal District as the location of the new data center.
---
The Massachusetts Green High Performance Computing Center, Inc. (MGHPCC, Inc.) Board of Directors has reached a unanimous decision to pursue development on the Mastex Industries site, following August 4th deliberations at the corporation's inaugural board meeting.  The selection is subject to the negotiation and execution of necessary agreements with Holyoke Gas & Electric, the City of Holyoke and the Commonwealth.
Comprised of senior executives from the University of Massachusetts (UMass), Massachusetts Institute of Technology, Boston University, Northeastern University and Harvard University, the board also addressed business issues related to start-up activities, including the election of UMass President Jack M. Wilson as chair and BU Associate Provost for Research Andrei Ruckenstein as president of the corporation.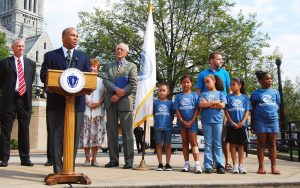 "The board is committed to bringing a world-class computing and research facility to the Commonwealth of Massachusetts. Entering this phase of site-negotiation illustrates remarkable progress and that we are very much on course," said Wilson. "Our progress is a testament to the power of a good idea and to the commitment of the Governor, the five research universities and our partners in industry and in Holyoke. We are very optimistic and expect that we will continue to move forward on this important project."
Next steps in the process consistent with the start of development activities on the site are expected to begin immediately.
The MGHPCC, Inc. board is committed to the goal of building a world-class, green high performance computing facility in Holyoke to serve the growing needs of the faculty of the member institutions, developing a collaborative research agenda in advanced computing and applications that positions Massachusetts as a global leader, and working in close partnership with local, regional and state officials to leverage the facility for economic growth.